Some past has been revealed by Geekbench brains of Razer Phone 2 , hereinafter generation gaming smartphone that is being prepared by Razer. Mentioned, the SoC that will hang out on this smartphone is Snapdragon 845 made by Qualcomm.
Now turn AnTuTu that dissect the innards of Razer Phone 2. Similar to Geekbench, AnTuTu also noted that the chipset is in this smartphone is 845. Snapdragon chipset is paired with 8GB RAM and a storage capacity of 512 GB .
Having hardware support that is arguably "super powerful", testing AnTuTu notes that Razer Phone 2 is able to score up to 283,397 points . Yes! A smartphone that of course is interesting for you if you want to devour the heavy games you want to play.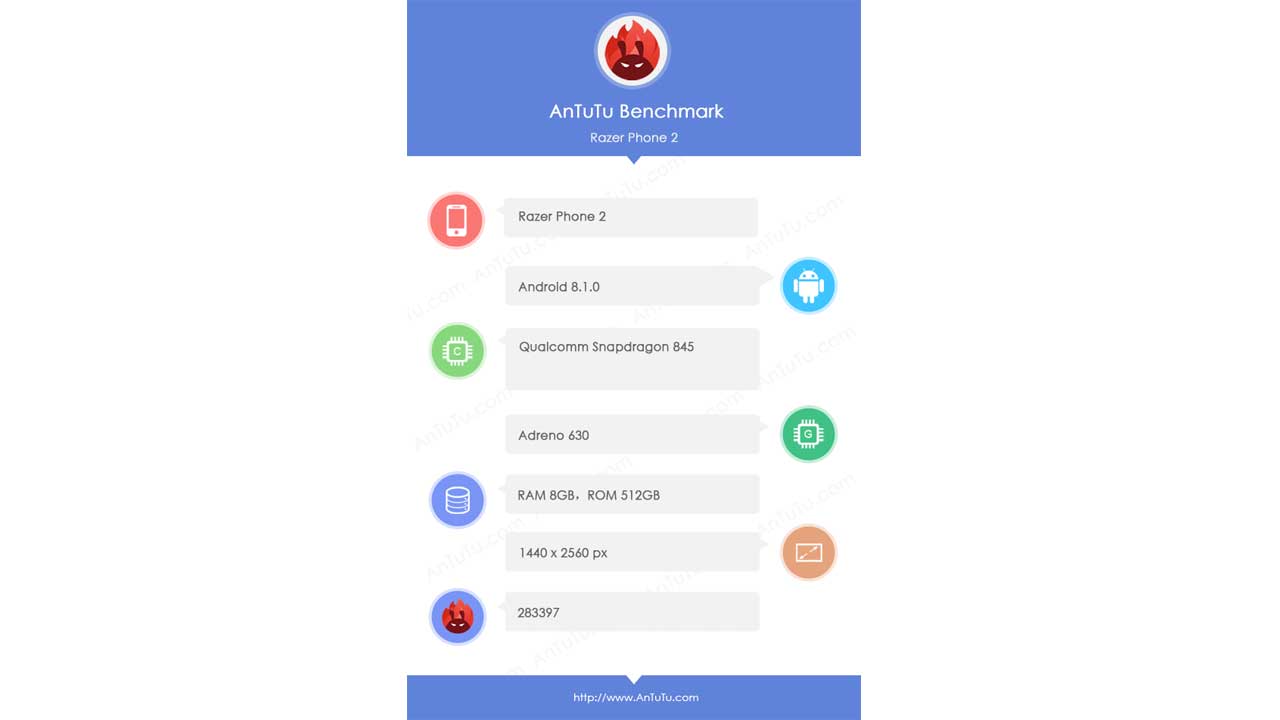 Not only dissecting the contents of innards in it, AnTuTu also showed a bit of the design of this smartphone. Mentioned, Razer Phone 2 will be packed with a 5.7-inch Sharp IGZO LCD screen . The resolution of this smartphone is 2,560 x 1,440 pixels and a refresh rate of more than 120 Hz.
A refresh rate higher than 120 Hz can be presented thanks to Qualcomm Q Sync screen technology . You could say, in the end this smartphone will really help game enthusiasts play high-class games on mobile devices.
Unfortunately not yet known whether the Razer Phone 2 will be packed with bangs like OPPO F7 screen is so large or F9 OPPO like water droplets waterdrop alias. Hopefully, this smartphone will run with Android 8.1 Oreo which is ready for an update to Android 9 Pie .