After being seen next to a Russian certification body and have their specifications confirmed by the famous " leaker " ( " leaker " in free translation) Roland Quandt on Wednesday , 14 November, the Asus Zenfone Max Pro M2 was the victim of another leak.
As seen in the Google Play Devices Catalog, the specifications listed match the previous rumors and the page reveals, even in very low quality, what will be the design of the new Asus middleman. Check it out next.
Despite the low resolution of the image, it is possible to see that the device will have a significant notch that is very similar to that seen in ZenFone 5Z . In addition, based on the design of the icons and the main screen, it seems Asus will repeat the recipe for success seen in ZenFone Max Pro M1 and will incorporate a nearly pure version of Android in the device – with the expectation that this is the latest, the 9.0 Foot.
As for technical specifications, nothing much different compared to previous rumors has been seen. Registered on the platform under the version name ASUS_X01BD_1, the new device will supposedly contain a 6-inch display with a resolution of 1080 x 2280 pixels, Snapdragon 660 chipset, 4GB or 6GB of RAM, 64GB or 128GB of storage internal and triple rear camera.
However, even with the appearance of the device in the Google Play catalog, it is necessary that all the information seen is treated with a certain mistrust. This, in addition to being just a leak, although the data was provided to Google by Asus itself, we have already seen serious registry errors on the platform – as was the case with the Razer Phone 2.
With the first version of the device having landed on Brazilian soil in August this year , it is not yet known when we will see the M2 here. Asus recently released through its official Twitter account in Indonesia that ZenFone Max Pro M2 will be released as early as December 11, but without information as to its price or availability in other countries. Check below the image released by the company.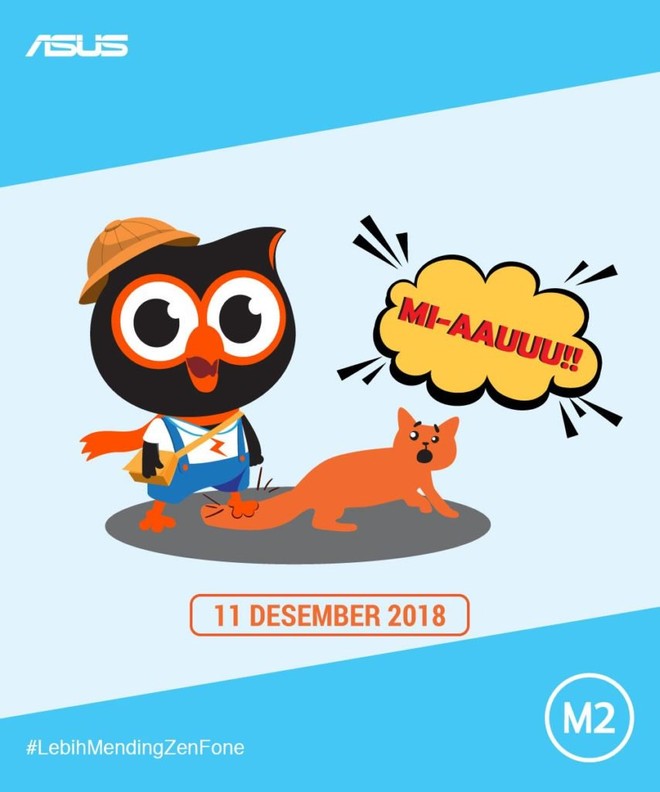 However, the announcement of the launch was somewhat strange since the brand referred to the new device as a smartphone gamer, although the specifications are expected to be much lower than the ROG Phone – smartphone of the company that fills the gaming segment. With this, we must wait until something concrete is revealed to know if the device disclosed by the company is in fact what has leaked recently.